Wide-format plotters are used to print and cut patterns, grading nests and markers as they are in their natural size. The printed marker is placed on the fabric and then cut. It helps you to exclude the drawing operation on the fabric or cardboard pattern use. Thus it increases the efficiency and accelerates the workflow, makes the cutting quality smarter and better.
To start plotting, the plotter file should be prepared (plt-file as a rule). We offer several plotters for our CAD-system
Sinajet Popjet C
cost-effective and reliable solution to marker printing
These plotters can have 1.6 m or 1.8 m plotting width, 1 or 2 printing heads. They are easy-to-use, reliable and high-productive plotters.
USB/LAN port
easy way to change the roll
closed loop servo-control system
Software platform: Windows 10/8/7/XP (32/64 bit)
Ability to work with all CAD systems that can create .plt files
competitive prices
Model
1600-1HP/1800-1HP
1600-2HP/1800-2HP
Maximum plotting width
165 / 185 cm
Plotting speed
42 m2/hr
80 m2/hr
Printing resolution
300 dpi
Media density
40-80 g/m2
Number of printing heads
1
2
Ink type
HP51645A/HP51645B
TDOT COMTENSE 180/220
These plotters are a high-quality andeco-friendly European product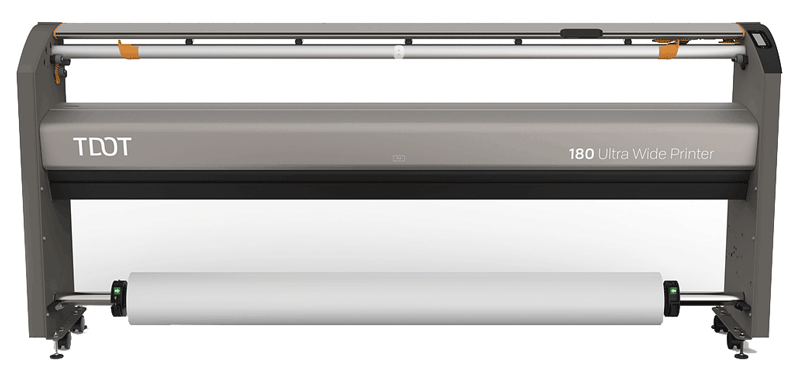 The plotters are available in 1.8 m and 2.2 m plotting widths, and can work with 2 or 4 printing heads. The automatic ink level control allows you to print with an incomplete set of cartridges. The marker can be delivered on the shaft or free-paper-on-front.
ultra-light aluminum shaft
free paper-on-front delivery
rapid paper roll exchange system
reduced ink consumption
ink level control
Software platform: Windows 10/8/7/XP (32/64 bit)
Ability to work with all CAD systems that can create .plt files
Model
TDOT 180 / 220 2HP
TDOT 180 / 220 4HP
Maximum plotting width
180 / 220 cm
Plotting speed
70 m2/hr
130 m2/hr
Number of print heads
2
4
Media density
> 20 g/m2
Noise level
< 40 dB
Ink type
HP51645 and compatible
Sinajet Popjet G
vertical Inkjet cutting plotter allows the user to
print and cut patterns
The G-series plotters combine plotting and cutting functions. They can have 1.2/1.6/1.8 m plotting and cutting width. The plotters are used by small manufacturers, designers or freelancers for pattern development.
both printing and cutting functions realized,
perfect thin and thick paper cut,
two paper rolls installed,
low-cost set of blades,
dot/dash line cutting
| Model | 1600G |
| --- | --- |
| Maximum plotting/cutting width | 165 cm |
| Plotting speed | 40 m2/hr (HP45) |
| Cutting speed | 1200 mm/sec (HP45) |
| Media density, plotting | 40-350 g/m2 |
| Media density, cutting | 80-300 g/m2 |
| Ink type | HP51645 and compatible |
Sinajet FG Cutter
flatbed cutter for thick media pattern marking and cutting
The cutter has got a fixed cutting window, a pinting head and a knife. It allows the user to cut thick cardboard patterns and print text on them, proving to be one of the most reliable and low-cost cutters of this family.
HP 45 Inkjet technology,
ultra light table
low noise and low energy consumption,
thick paper/cardboard cutting,
vacuum adsorption
Model
1209
1509
1512
Plotting/cutting dimentions
120 x 90 cm
150 x 90 cm
150 x 120 cm
Plotting speed
40 m2/hr
Cutting speed
1 m/sec
Media thickness
0.1-1.1 mm
Precision/td>
0.1 mm
Ink type
HP51645 and compatible